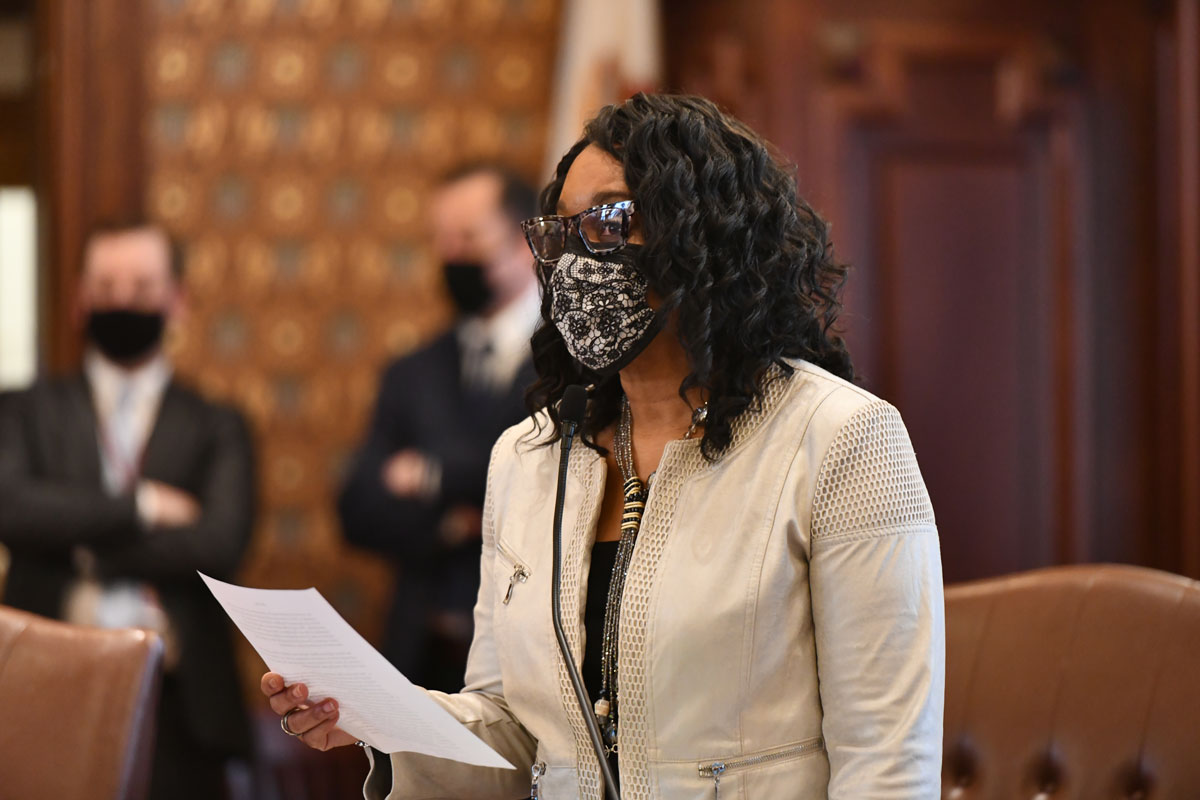 SPRINGFIELD – Black children across Illinois are a step closer to being ensured a quality education under a plan led by Senate Majority Leader Kimberly A. Lightford (D-Maywood) that passed the Illinois Senate today. The legislation is part of the Illinois Legislative Black Caucus' plan to rid Illinois of systemic racism.
The measure addresses education and workforce development from early childhood to adulthood. To help ensure school readiness, it strengthens early intervention services and sets a kindergarten readiness assessment in statute. Early intervention services, which help support the development of children with delays and disabilities, will now be available until the beginning of the school year after the child turns 3.
Rooted in equity, House Bill 2170 pivots away from teaching history from a Eurocentric perspective by reforming the state's history curriculum through an Inclusive American History Commission that will make sure students learn about people from all backgrounds.
"For so long, we've taught American history in a way that ignores the contributions made by Black, Latino and LGBTQ people, and many others," Lightford said. "We also ignore the horrible and inhumane way Black people were treated during slavery and how that history of mistreatment carries on today."
In order to address racial justice practices and disproportionate number of Black youth suffering from trauma, the legislation creates the Whole Child Task Force. This body will be charged with creating equitable, safe, inclusive, and supportive environments for all children – but especially survivors of trauma. Creating trauma-responsive schools will help these children succeed and change the direction of their whole lives.
Recognizing the benefit all students receive by learning from Black teachers and other teachers of color, the legislation also removes some of the barriers that prevent Black people and other people of color from becoming teachers.
To help students prepare for higher education, the measure takes concrete steps to ensure Black and other marginalized students have the same opportunities to get into competitive colleges and universities as white students. It requires two years of laboratory science and foreign language (or sign language) to graduate high school. Many prestigious colleges and universities – including the state's flagship University of Illinois – require foreign language for incoming students. To address a similar inequity, the measure also requires all high school students to take at least one course with an intense focus on computer literacy, helping young adults of every background succeed in higher education. High schools must offer at least one elective computer science class, as well.
"Our children should be graduating high school prepared to be productive adults, and that starts with what we require them to learn," Lightford said. "It's baffling that there are Illinois schools that don't offer foreign language when it's a requirement to get into our state's flagship school."
At the state's public community colleges and universities, the measure supports finding more race-conscious and equitable ways to fund higher education and lower-income students. To support post-college adults, it explores the possibility of combining all of Illinois' scattered workforce development initiatives and programs under a single agency.
The proposal now goes to the House for final consideration before heading to the governor. It is part of a package of four bills taking aim at dismantling racism, which also addresses criminal justice reform, economic access and opportunity, and health care and human services.