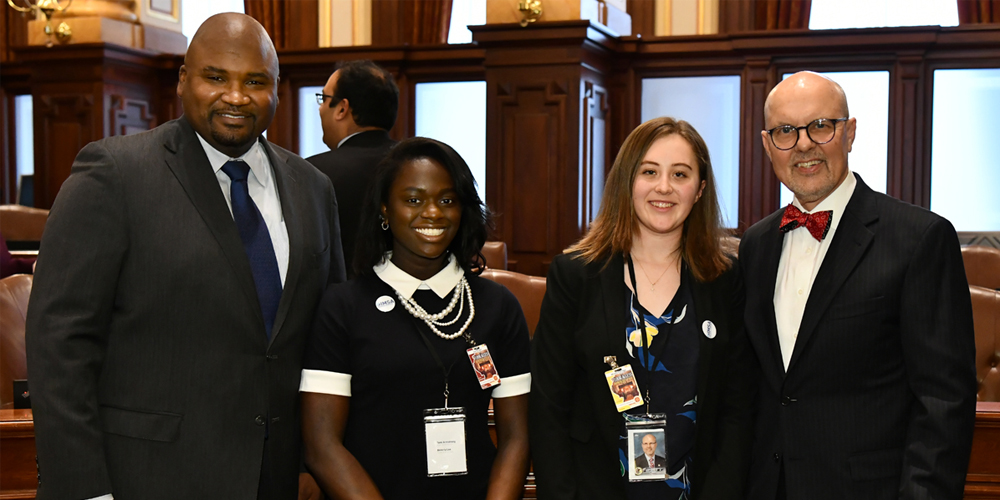 SPRINGFIELD – Students from the Illinois Math and Science Academy traveled to Springfield Tuesday as a part of the academy's first annual State Capitol Day trip.
Students shadowed their respective Senators throughout the day.
"I shared a wonderful day with my constituent Esha Dani who attends the Illinois Mathematics and Science Academy. The Senate was honored to host such a brilliant group of students and we can't wait to see what their futures hold," Majority Leader Kimberly Lightford (D-Maywood) said.
"This is a remarkable opportunity for these students to see firsthand how their government functions," State Senator Dave Koehler (D-Peoria) said. "It also gives my colleagues and me the chance to connect with some of the best and brightest students our state has to offer. The future is undeniably promising for each and every one of them, and I look forward to following their progress."
"I am so proud IMSA is in my district in Aurora, and today I enjoyed spending time with Samantha Lazcano, an Aurora native who will graduate this year," Assistant Majority Leader Linda Holmes (D-Aurora) said. "She plans to attend medical school after college, which is just one example of the ways IMSA graduates will be serving society and shaping the future."
"Because of my background in engineering, I was excited to have TJ from the Illinois Math and Science Academy join us in Springfield. It is important to understand how math and science affect public policy, so I am glad that IMSA brings their students to the capital to learn the process," State Senator Suzy Glowiak-Hilton (D-Western Springs) said.