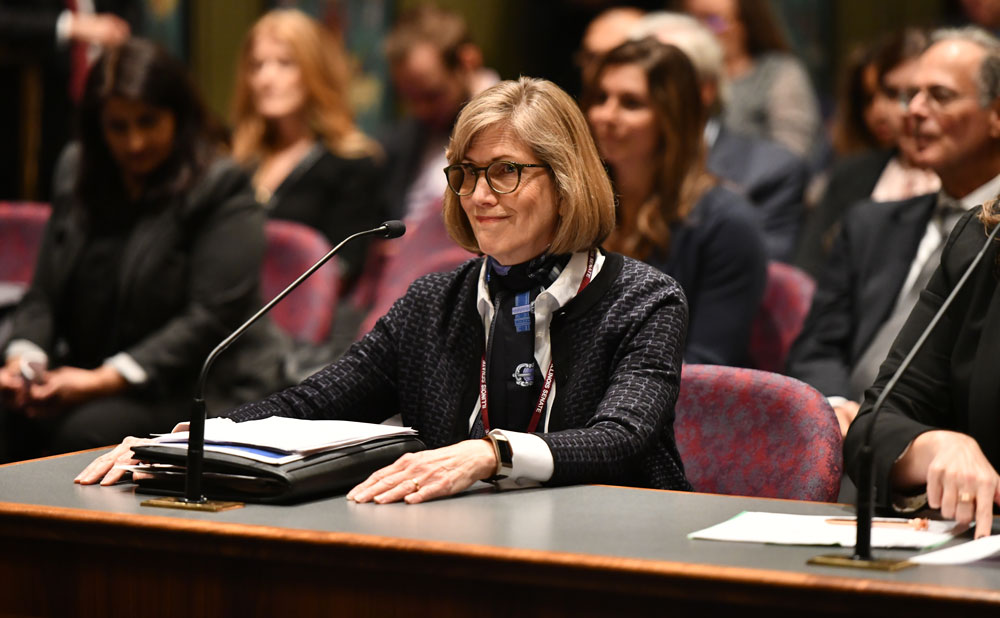 SPRINGFIELD – In response to concerns from area residents about 5G technology coming to the area, State Senator Suzy Glowiak Hilton (D-Western Springs) is committed to learning more about the infrastructure to better inform legislative action on the issue.
"I've heard from a lot of people about this issue," Glowiak Hilton said. "There was talk that certain carriers were going to roll out 5G in my district and people became concerned. I'm glad to jumpstart this conversation to help residents feel comfortable in their homes."
The Senate Public Health Committee held a subject matter hearing Tuesday to learn about the benefits and drawbacks of the wireless technology. Glowiak Hilton is working toward stronger local control for municipalities, and hopes local areas will be able to choose if they want this technology in their areas.
In order to learn more about 5G technology, Glowiak Hilton hosted a number of experts to testify on the matter Tuesday.
Bethanne Cooley, assistance vice president of CTIA – which represents the U.S. wireless communications industry – told lawmakers that 5G technology brings in a number of benefits. 5G technology, according to Cooley, is expected to create 2,500 jobs in Chicago alone.
"5G can actually help save lives as well," Cooley told legislators Tuesday. "A 60-second improvement to the response time of first responders can and will save lives. Wireless-powered self-driving cars could also save over 20,000 lives a year."
However, other people, including Dr. Fariha Dipasquale and Dr. Paul Héroux, director of occupational health program at McGill University in Montreal, told members of the committee the technology will lead to more cases of cancer.
"The data will flow faster and other things that will even be faster, including cancer and chronic diseases," Héroux said. "This radiation is biologically very, very active. It is different than AM, FM and regular signals. We have many animal studies that say that electromagnetic radiation from cell phones causes cancer."
Glowiak Hilton plans to continue to work with her constituents and fellow lawmakers to learn more about the effects of 5G infrastructure. She introduced legislation last month to establish a task force to research the technology.
"I'm glad we are having this conversation," Glowiak Hilton said. "I think government works best when residents are engaged and active, and this hearing is a great example of that."