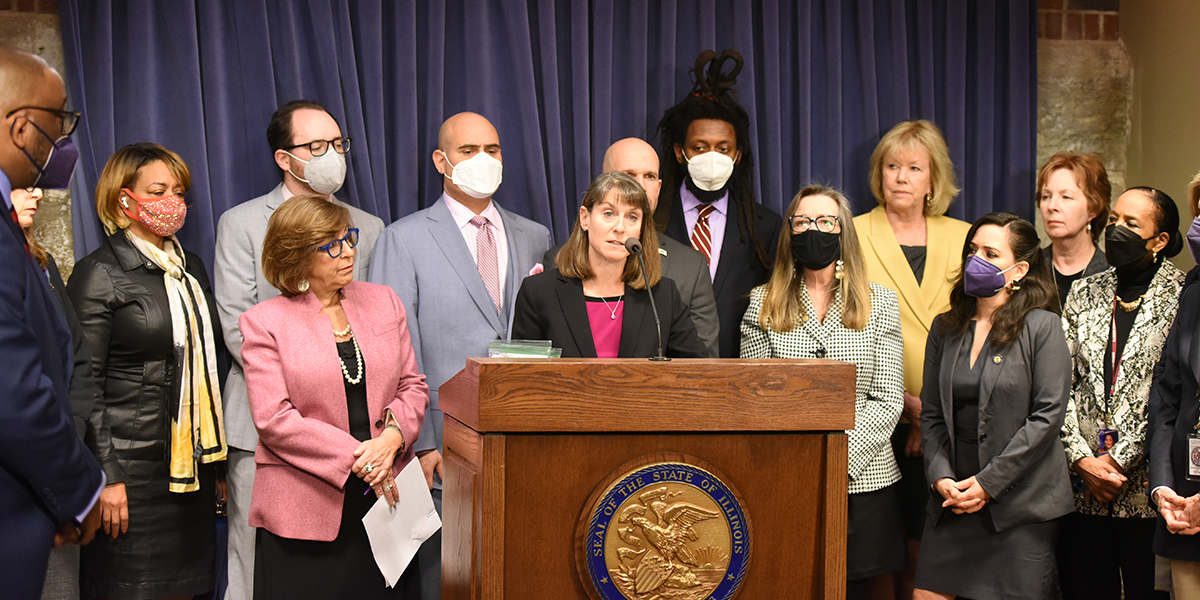 SPRINGFIELD – Members of the General Assembly stood together in solidarity during a press conference Wednesday to condemn the anti-Semitic literature anonymously distributed recently in the district State Senator Laura Fine (D-Glenview) represents, and to provide members of the community actionable ways they can stand up against antisemitism and hate speech.
"This incident is disturbing and intolerable," Senator Fine said. "As an individual, and as a Jewish woman, I am disgusted by these displays of hate. However, we will not cower from these threatening messages. Instead, I am asking my colleagues and members of my community to stand up against antisemitism to prevent situations like this, or more dangerous incidents, from ever happening again."
Over the last few weeks, anti-Semitic flyers in plastic bags were left on driveways in Niles, Glenview, and Park Ridge. The flyers included images of prominent Jewish politicians—including Senator Fine—and businesspeople from Illinois and across the country.
"The meteoric rise of antisemitism both in Illinois and globally is breathtaking," said State Senator Sara Feigenholtz (D-Chicago). "The Jewish community and its allies cannot ignore or dismiss the historical parallel of what occurred before World War II and the Holocaust where six million Jews were murdered across Europe and the antisemitism we are experiencing globally, domestically and in Illinois."
According to the Anti-Defamation League, anti-Semitic incidents increased by 84% in the Midwest between 2016 and 2020.
"As antisemitism rises across the nation, we must continue to call our hate speech and hate crimes when they happen in our own backyard," said Representative Bob Morgan (D-Highwood). "The governor's budget addition for $20 million for security funding for religious and cultural institutions is urgently needed and will help our at-risk communities."
Members of the General Assembly and advocates are further encouraging everyone to help combat hate speech and stop the spread of violent acts by holding people accountable, raising awareness, and supporting people who are targets of hate speech and notifying authorities and the office of the attorney general when hate crimes take place.
"We need to take bigots at their word and ensure our elected officials are safe and to investigate the sources of these serial attacks," said Alison Pure-Slovin, director of the Midwest region for the Simon Wiesenthal Center. "The Simon Wiesenthal Center calls for a special Illinois taskforce on anti-Semitism and reiterates its call to FBI Director Wray to establish a special FBI National Taskforce on anti-Semitism to help us beat back the scourge of hate."
###