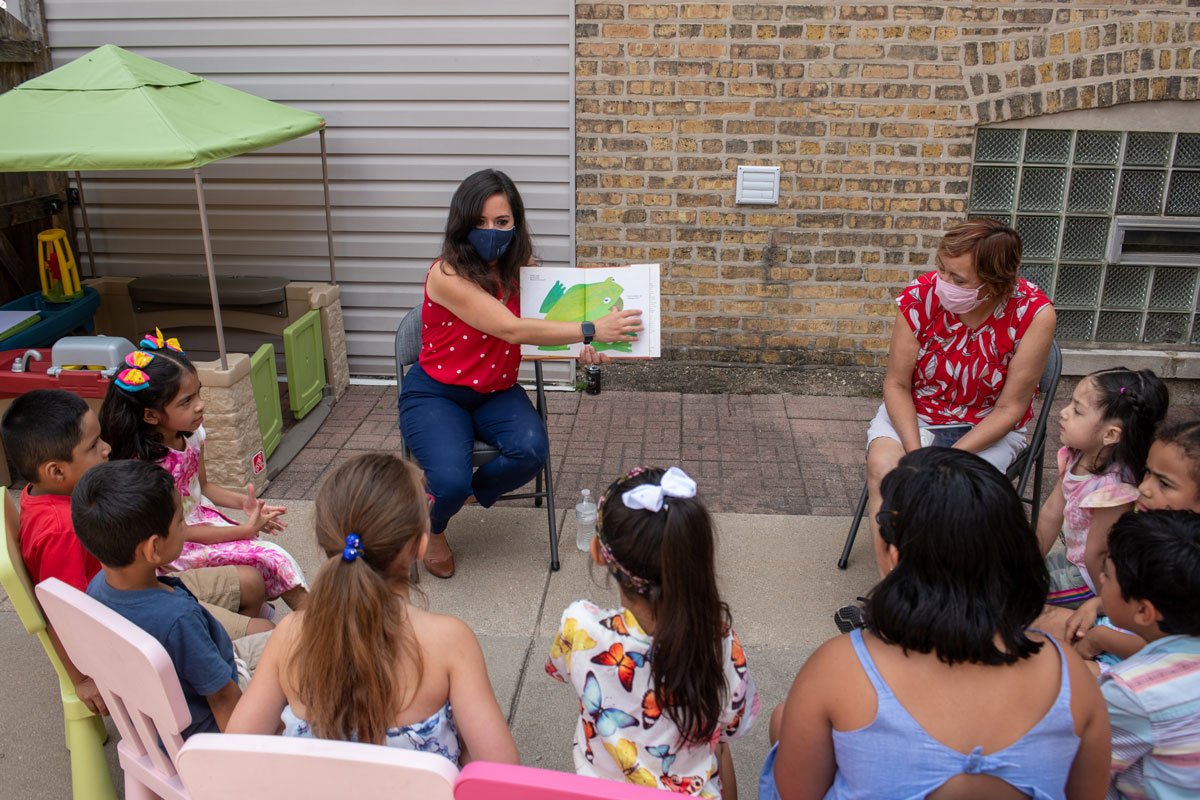 CHICAGO – State Senator Cristina Pacione-Zayas (D-Chicago) participated in a "walk a day" event to highlight the child care crisis affecting the workforce, parents and children exacerbated by the COVID-19 pandemic. During the event, Pacione-Zayas shadowed day care provider Lucia Rubio to learn about the scope of work performed daily by child care providers.
"This event has affirmed my concerns about the struggles our child care providers go through on a day-to-day basis, especially since the onset of the COVID-19 pandemic," said Pacione-Zayas, a longtime advocate for early childhood policy. "This year, the legislature took up measures to help our early childhood workforce, but we also need to turn our focus toward the federal government to help our state and the nation provide the vital resources needed to help the early childhood workforce, parents, and most importantly, children recover and thrive."
During the "walk a day" event, Pacione-Zayas learned that Rubio was only a few classes short of achieving her bachelor's degree focusing on early childhood education but does not have the economic resources to complete it. A law sponsored by Pacione-Zayas that was recently signed by Governor JB Pritzker, Public Act 102-0174, creates the Early Childhood Access Consortium for Equity to streamline higher education pathways for providers like Rubio to meet her educational goals and foster economic stability.
"I feel like my work as an early educator is not valued. We help educate and care for children from a young age. We instill values. We teach children to socialize and solve problems," said Rubio. "We also work with parents to find creative ways to support them if they lose a job or have difficult schedules. I have invested so much of my own time and money to provide quality child care. I think it is time early educators get paid a fair wage that reflects the important work we are doing in our community."
At the federal level, Congress recently unveiled a bipartisan infrastructure investment package, which advocates had hoped would include provisions supporting "human infrastructure," like child and elder-care resources. However, the current plan is lacking these provisions.
"I hope the federal government is able to adopt the human infrastructure plan which includes critical funds for child care. We must continue to advocate for child care as essential infrastructure," Pacione-Zayas said. "Child care professionals are working around the clock, paying out of pocket to retrofit their spaces to meet more intense safety protocols due to the pandemic, and still accessing public assistance because reimbursements and co-pays cannot cover the true cost. They do all these things while also providing a safe and healthy environment for our children to learn and grow."
The "walk a day" event sponsored by SEIU Healthcare was part of an ongoing discussion between Pacione-Zayas and child care providers and advocates to address the child care crisis worsened by the COVID-19 pandemic, retention and recruitment challenges within the industry, and affordability for parents.
PHOTO ATTACHED: Senator Pacione-Zayas and Lucia Rubio read to Rubio's home day care class during Tuesday's "walk a day" event.