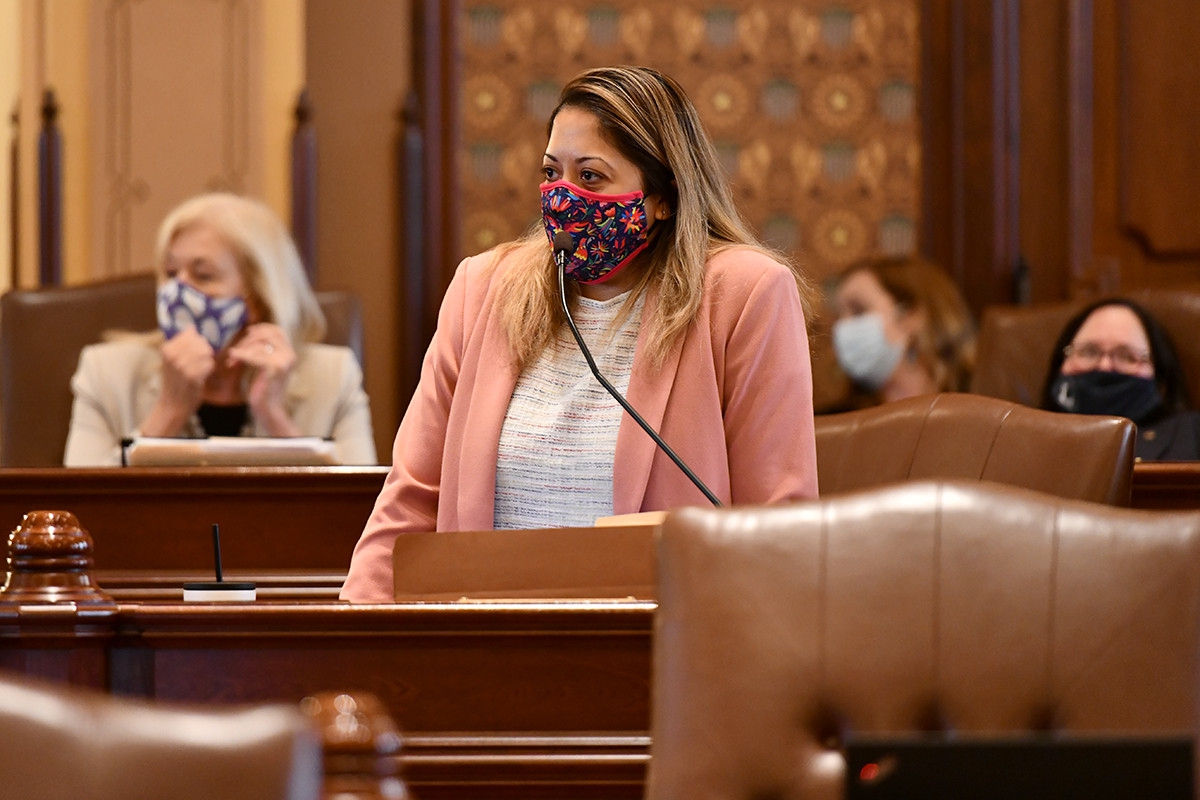 SPRINGFIELD –Action sponsored by State Senator Celina Villanueva (D-Chicago) that protects the rights of workers moved out of the Senate Friday.
"Current law does not accurately reflect the working habits of our society, which is why this measure is so critical," Villanueva said. "Having clear, strong labor laws is one of the most important ways we prevent the exploitation of workers whose contributions allow our communities to prosper."
Senate Bill 3146 updates the One Day Rest in Seven Act, which entitles workers to a 24-hour period of rest in a work week. The updated language will further define a work week and add provisions regarding breaks during a shift lasting more than 7.5 hours. Senator Villanueva's measure will also increase the cost of the civil offenses, making the maximum $500 for employers with more than 25 employees. Smaller businesses will receive adjusted penalties to reflect the difference in workforce size, making the maximum $250 for employers with fewer than 25 employees.
The existing law has not been updated since 1972. The Illinois Department of Labor is responsible for bringing the issue to Senator Villanueva, and IDOL will employ the cooperation of Arise Chicago, a community-based organization that fights workplace injustice, to see SB 3146 advance. The measure will strengthen the enforcement of provisions for the protection of Illinois workers.
"Having opportunities to rest ensures the maintenance of a healthy lifestyle and a safe work environment," Villanueva said. "I'm proud to carry an initiative that prioritizes the well-being of hard-working individuals in the state."
SB 3146 passed the Senate Friday and heads to the House for further consideration.
###
Una medida de Villanueva impulsa protecciones para los trabajadores
SPRINGFIELD – Una medida patrocinada por la Senadora Estatal Celina Villanueva (D-Chicago) que protege los derechos de los trabajadores fue aprobada en el Senado.
"La ley actual no refleja adecuadamente los hábitos de trabajo de nuestra sociedad, situación que explica porqué esta medida es tan importante," dijo Villanueva. "Contar con leyes laborales fuertes y claras es una de las formas más importantes para prevenir la explotación de los trabajadores cuyas contribuciones permiten que prosperen nuestras comunidades."
La iniciativa del Senado 3146 actualiza la Ley de un Día de Descanso en Siete, que permite a los trabajadores un periodo de 24 horas para descansar durante una semana laboral. El lenguaje actualizado definirá con más detalle la semana laboral y adiciona provisiones sobre los descansos en una jornada laboral de más de 7.5 horas. La medida de la Senadora Villanueva incrementará el costo de las violaciones civiles, dejando la penalidad máxima en $500 para empleadores con más de 25 trabajadores. Los negocios más pequeños recibirán penalidades ajustadas que reflejan la diferencia en su fuerza laboral, dejando la multa máxima en $250 para los empleadores con menos de 25 trabajadores.
La ley actual no ha sido actualizada desde 1972. El Departamento del Trabajo de Illinois fue el responsable de traer el tema a la Senadora Villanueva, y IDOL empleará la cooperación de Arise Chicago, una organización comunitaria que combate las injusticias en el lugar de trabajo, para que la iniciativa SB 3146 se apruebe. La medida fortalecerá la aplicación de provisiones que protegen a los trabajadores de Illinois.
"Tener la oportunidad de descansar garantiza el mantener un estilo de vida saludable y un ambiente de trabajo seguro," dijo Villanueva. "Me enorgullece liderar esta iniciativa que da prioridad al bienestar de las personas trabajadoras de nuestro estado."
La iniciativa SB 3146 fue aprobada en el Senado y es enviada a la Cámara de Representantes para su consideración.
###