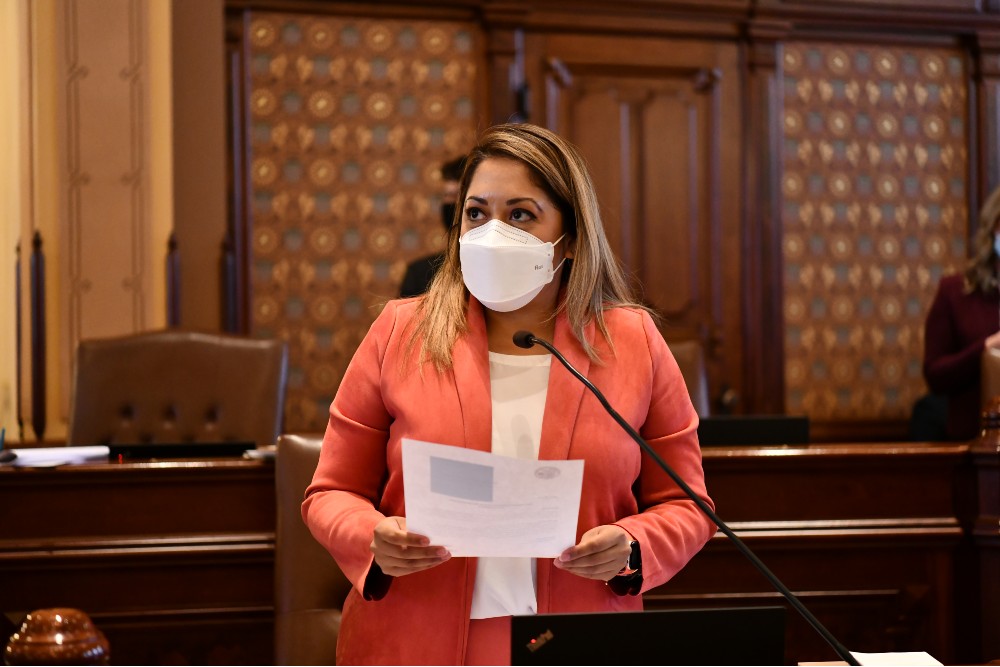 SPRINGFIELD – To protect first-generation college students from predatory business practices, State Senator Celina Villanueva (D-Chicago) passed legislation in the Illinois Senate that would create transparency and fairer guidelines for educational planning services.
"Companies that prey on first-generation and low-income students must be held accountable," Villanueva said. "I am committed to empowering our state agencies to reel in these bad actors."
The legislation would require educational planning service providers to disclose that similar services may be available at no charge from the state, allow consumers to choose which services they wish to receive and allow consumers to cancel services at any time. Consumers would also receive a full refund for services not yet provided under the proposed legislation.
First-generation college students and students from families with limited English proficiency are often targeted by educational planning service providers. These providers use high-pressure sales tactics to lock parents into expensive, long-term contracts only to find that the assistance provided is inadequate or could have been received at no charge through the state or other entities.
The Attorney General and State's Attorneys would enforce this legislation by bringing civil action in accordance with the Consumer Fraud and Deceptive Business Practices Act and by voiding contracts that violate the proposed legislation. The Illinois Student Assistance Commission (ISAC) would also be empowered to seek additional penalties for violators.
Reliable educational planning services are offered by ISAC free of cost at www.isac.org.
Senate Bill 1085 passed the Illinois Senate and awaits consideration in the Illinois House.
Villanueva busca proteger a los estudiantes universitarios de los servicios de planeación educativa con prácticas depredadoras
SPRINGFIELD – Para proteger a estudiantes universitarios de primera generación de prácticas de negocios depredadoras, la Senadora estatal Celina Villanueva (D-Chicago) aprobó una legislación en el Senado de Illinois que propiciará transparencia y pautas justas para los servicios de planeación educacional.
"Las compañías que abusan de los estudiantes de primera generación que son de bajos ingresos deben rendir cuantas," dijo Villanueva. "Estoy comprometida a empoderar a nuestras agencias del estado para contener a estas malas compañías."
La legislación requerirá que los servicios de planeación educativa den a conocer que algunos servicios similares podrían estar disponibles sin costo por parte del estado, permitir que los consumidores escojan los servicios que deseen recibir y permitirles que cancelen estos servicios en cualquier momento. Los consumidores también recibirán un reembolso completo por los servicios que no hayan recibido bajo la legislación propuesta.
La primera generación de estudiantes universitarios de familias con conocimiento limitado del idioma inglés son blanco frecuente de estos proveedores. Estos proveedores usan tácticas de venta agresivas para comprometer a los padres con contratos costosos y de largo plazo, sólo para darse cuenta de que la asistencia ofrecida es inadecuada o que se pudo obtener sin costo a través del estado u otras entidades.
El Procurador General y los fiscales generales aplicarán esta legislación presentando acciones civiles, siguiendo la ley de prevención de Fraude al Consumidor y Prácticas de Negocios Engañosas, y anulando los contratos que violen la legislación propuesta. La Comisión de Asistencia a los Estudiantes de Illinois (ISAC) también tendrá facultades para presentar penalidades adicionales a quienes violen esta norma.
Algunos servicios de planeación educativa confiables son ofrecidos gratuitamente por ISAC en www.isac.org.
La iniciativa SB 1085 se aprobó en el Senado de Illinois y espera ser considerada en la Cámara de Representantes.