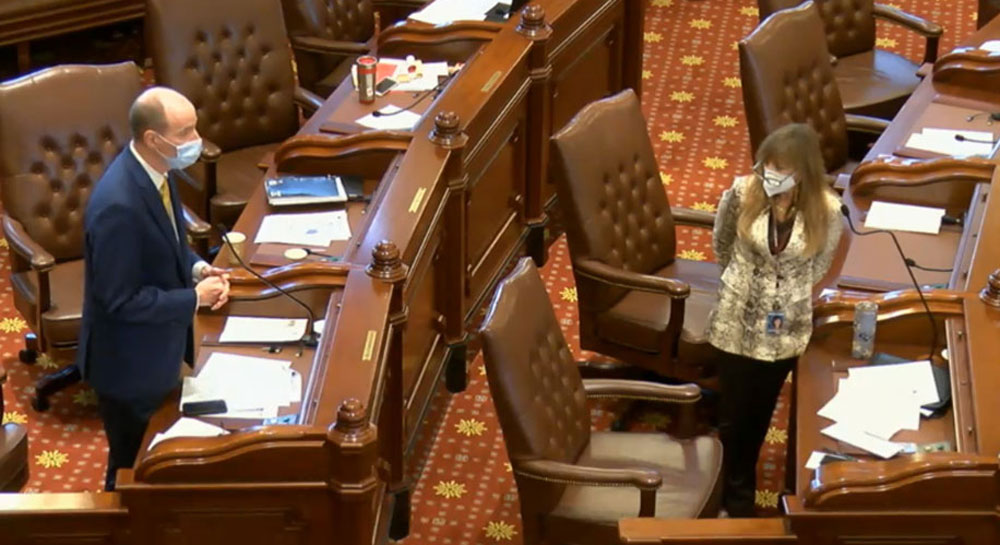 Legislation addresses federal unemployment aid, employee safety, benefits
SPRINGFIELD — To protect essential workers and incentivize employers to provide the best protective measures possible in the workplace during the pandemic, State Senator Linda Holmes (D-Aurora) led the effort to pass a comprehensive labor and workers' compensation plan out of the Illinois Senate Thursday.
"This is an agreement between business and labor that ensures better protections for employees and clear, consistent guidelines to ensure employers know how to operate safely," Holmes said. "I'm grateful for the spirit of cooperation that allowed us to work quickly and decisively to pass this plan."
House Bill 2455, sponsored by Holmes, ensures Illinois continues to qualify for federal relief packages by extending unemployment benefits, waiving the one-week unemployment insurance waiting period, and expanding eligibility for unemployment to non-instructional education employees, such as lunch workers and teachers' aides. Employers would also not be charged for unemployment benefits paid to those out of work due to COVID-19 for benefits issued between March 15, 2020 and Dec. 31, 2020.
In the interest of providing incentives for employers to do all they can to ensure a safe workplace for employees as businesses operate in pandemic conditions, the legislation creates a "rebuttable presumption" that a first-responder or essential worker who contracts COVID-19 did so in the course of their employment. An employer would have certain means of rebutting the worker's claim.
"Workers' compensation doesn't normally cover illnesses, because they usually can't be directly tied to a workplace, but we are not in normal times," Holmes said. "Jobs that are not typically considered hazardous have suddenly become dangerous for workers due to COVID-19. This workplace injury framework protects employees, but it also gives employers the ability to prove they did all they could to prevent COVID-19 infections in their workplace by giving those employers a strong incentive to take the best precautions that experts advise."
Employers may rebut the presumption that an employee contracted COVID-19 in the workplace through the following means:
Demonstrating that for at least 14 days prior to the date the employee claims injury (their COVID-19 infection) the workplace was following up-to-date public health guidelines appropriate to their type of business issued by the Illinois Department of Public Health or the Centers for Disease Control.
Demonstrating that the employee in question was working from home for a period at least 14 days prior to the injury claim.
Demonstrating that the employee was exposed to the virus by an alternative source outside the workplace.
Other provisions in the legislation include a similar rebuttable presumption for Chicago first responders, who are not covered under the state's Workers' Compensation Act. It also mandates that the Illinois Work Review Panel, created last year, expediently fill its vacant positions and meet within 45 days of the law taking effect.
House Bill 2455 passed the Senate 50-4. It now is in the House for concurrence.