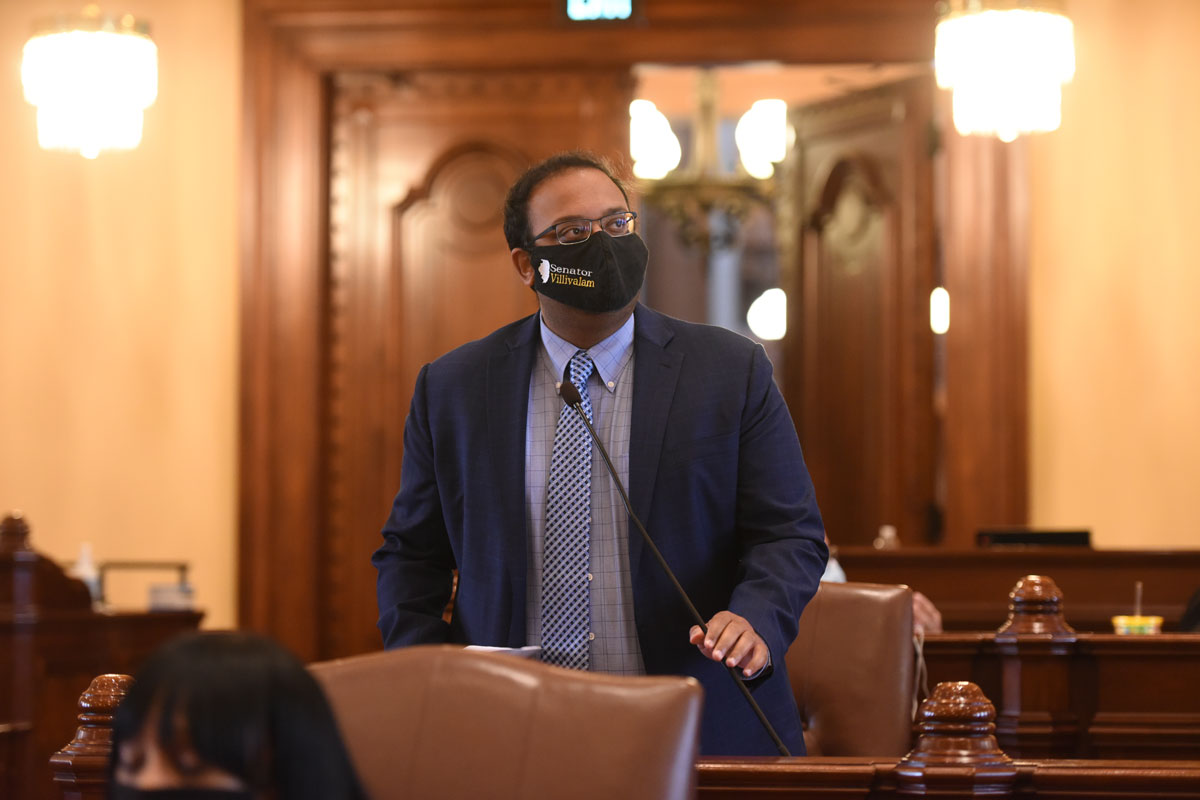 SPRINGFIELD -- Governor Pritzker signed the TEAACH Act (Teaching Equitable Asian American Community History) into law on Friday. The bill will make Illinois the first state to require a unit of Asian American history to be taught in public elementary and high schools.

Following the outbreak of the COVID-19 pandemic, hate crimes and attacks on Asian Americans rose across the country, prompting advocacy groups and organizers to develop and champion this legislation over the past year.

The historic bill was introduced by State Sen. Ram Villivalam and State Rep. Jennifer Gong Gershowitz, and was championed by Asian Americans Advancing Justice | Chicago and a coalition of more than 35 organizations.

"I attended Illinois public schools throughout my childhood but it wasn't until I was in law school that I learned about the Chinese Exclusion Acts. I never had the opportunity to learn about the very laws that sought to deport my own grandparents," said State Rep. Jennifer Gong-Gershowitz, House sponsor of the bill. "The TEAACH Act will ensure Asian American students have the opportunity to learn about our heritage and Asian American contributions to the fabric of our nation."

"This historic measure makes Illinois the first state in the nation to set a standard for culturally competent Asian American history curriculum. This milestone offers students of all backgrounds cross-cultural education, and ensures that the stories and experiences of our communities are accurately reflected in the classroom," said State Sen. Ram Villivalam, Senate sponsor of the bill. "As the son of Indian immigrants and representative of one of the most diverse districts in the state, I am proud to have sponsored this legislation."

The bill is complemented by a PBS series called "Asian Americans," a five-episode documentary series and corresponding K-12 school curriculum released in Spring 2020.

Governor Pritzker praised the TEAACH Act as a way to "address harmful stereotypes."

The bill struck a chord with many throughout the legislative process, including youth organizers--current Illinois public school students--who played a key role in passage of the legislation. Three community leaders who advocated for the passage of the TEAACH Act, including a current teacher and a 2021 high school graduate, spoke at the bill signing, and shared their personal stories of an educational experience that did not include a history curriculum representing diverse voices.

"It became clear to me that more Asian American history needed to be included in our curriculum at school when an AP U.S. History class did a mock trial my Junior year. They put the Japanese internment camps on 'trial.' After days of solid evidence, I was incredulous when my classmates believed that people like my grandfather were rightfully incarcerated," said Kiana Yoshiko Kenmotsu, a fourth generation Japanese American who graduated last month from Niles West High School, where Gov. Pritzker signed the bill. "Now that the TEAACH Act is becoming law, I am so excited to dream of the ripple effect that embracing other people and cultures will have as we grow up."

"We need to depict a more inclusive picture of our history so that young Asian Americans can see themselves reflected in the school curriculum while also addressing the rising anti-Asian sentiment in our country," said Laura Houcque Prabhakar, a community leader with the Cambodian Association of Illinois and an educator in Ilinois public schools whose parents are survivors of the Cambodian genocide under the Khmer Rouge. "As educators, it is our responsibility to seek out information and knowledge about different histories and stories of our country to make sure all of our students feel seen and heard. This bill is a big milestone in that process."

"This legislation is groundbreaking, and it will directly impact more than 100,000 Asian American K-12 students in Illinois. So many students don't get a chance to learn about the contributions of their communities or the migration stories of their families, contributing to feelings of being 'othered' and making it more challenging to connect with their roots," said Grace Pai, Executive Director of Asian Americans Advancing Justice | Chicago. "Asian American history captures important themes of citizenship, civil rights, racism, and identity that all students deserve to learn."

The bill will go into effect during the 2022-2023 school year.