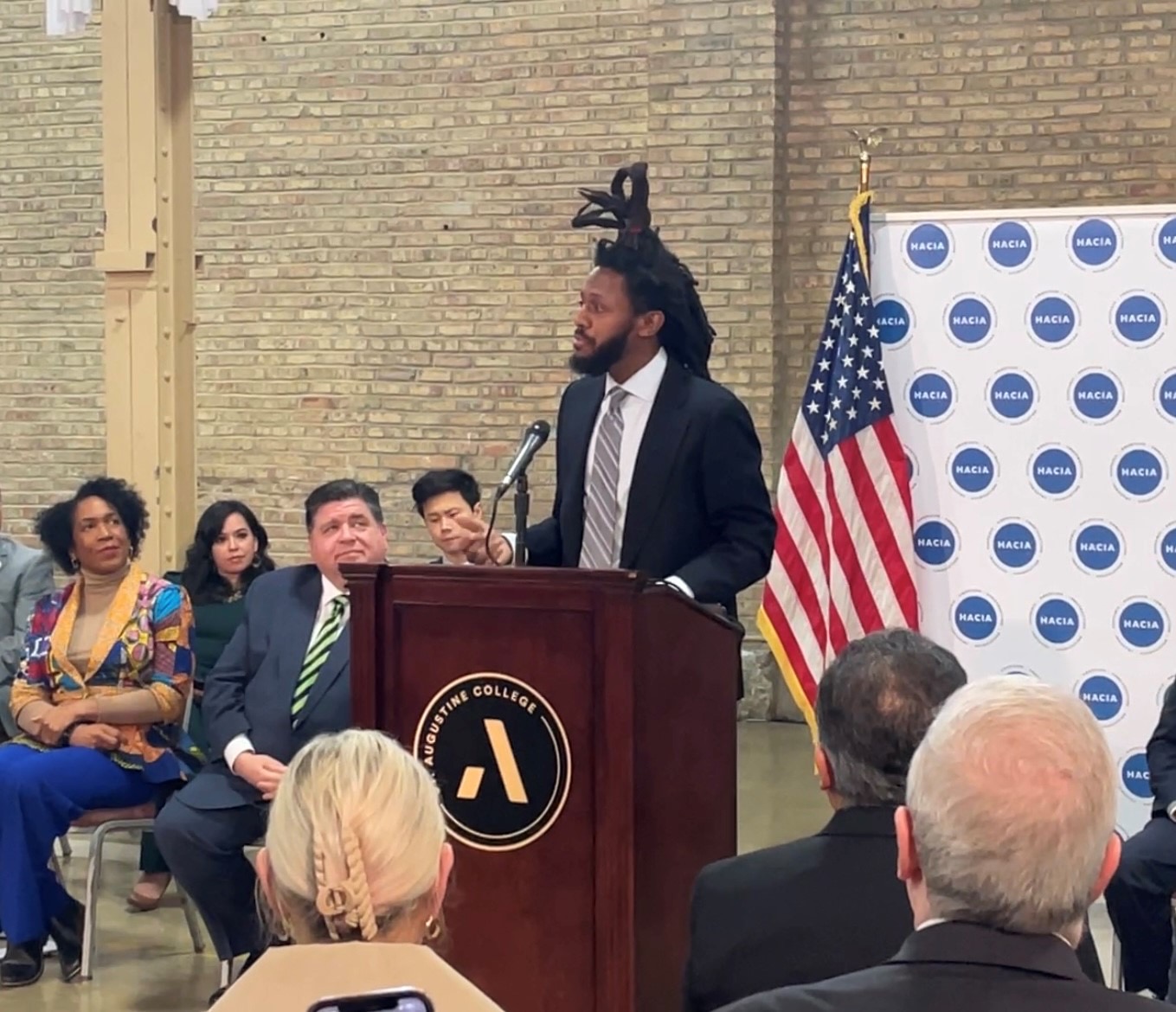 CHICAGO – The Illinois Works Pre-apprenticeship Program, which creates a qualified talent pipeline of diverse candidates in construction and the building trades, will see a $13 million expansion thanks to support from the Illinois Senate Democratic Caucus.
"A strong and just economy is built on ensuring all Illinoisan have real opportunities to secure good-paying jobs," said Senator Mike Simmons (D- Chicago), who kicked off the announcement at a press conference Friday. "By expanding the Illinois Works Pre-apprenticeship program and making it more accessible to communities of color, we are addressing systemic inequities and creating a more diverse and skilled workforce in Uptown and across the state."
The Works Pre-apprenticeship Program's second year will expand access to the program across the state and will serve up to 1,400 people. This is a 40% increase from the program's first year. The Illinois Works Pre-Apprenticeship Program launched with the goal of increasing diversity and access to apprenticeship programs. Comprehensive pre-apprenticeship programs help participants gain admission to apprenticeship programs, which provide a greater opportunity to obtain employment in the construction trades and secure long-term employment.
"We're thrilled to have Illinois Works Pre-apprenticeship programs continue in the Metro East region through Southwestern Illinois College and a new program administered by Teens Against Killing Everywhere," said State Senator Christopher Belt (D- Swansea). "By providing people with support and training, we're opening the door for Illinoisans to secure stable, good-paying careers in a high-demand industry."
"Investing in pre-apprenticeship programs provides an opportunity for Illinoisans to secure good-paying jobs, especially for people of color," said State Senator Cristina Castro (D-Elgin). "Organizations like HACIA help Illinoisans gain the skills, training and support they need to excel in DOL-registered apprenticeship programs and beyond."
The program was designed to increase access to good-paying jobs in the trades for historically underrepresented populations. Participants of the program attend tuition-free and receive a stipend and other supportive, barrier reduction services to help enter the construction industry. Upon completion of the program, pre-apprentices receive industry aligned certifications which will prepare and qualify them to continue to a registered apprenticeship program in one of the trades.
"Growing diversity in the building trades is not just a Chicago issue: we are charging forward like never before with three programs between Decatur and Springfield," said State Senator Doris Turner (D-Springfield). "I look forward to seeing the graduates of these programs working on projects across our region for decades to come."
For more information, you can visit here.
The 2023 Illinois Works Pre-apprenticeship Program recipients and their grants are as follows:
Associated Builders & Contractors, Illinois Chapter, Inc. - $239,802.50
Bethel Family Resource Center - $400,000.00
Black United Fund of Illinois, Inc./Awaken Foundation - $500,000.00
Chicago Women in Trades - $500,352.44
Children First Fund - $250,000.00
Community Assistance Programs- $580,637.25
Community Development Institute - $500,000.00
Danville Area Community College - $302,000.00
EDDR Foundation - Chicago - $500,000.00
EDDR Foundation – Rockford - $400,000.00
HIRE360 - $550,000.00
Hispanic American Construction Association - $551,612.90
Illinois Foundation of Skills USA-VICA - $600,000.00
Impact Global Inc - $400,000.00
Lumity Maywood - $200,000.00
Macon County - $450,000.00
Metropolitan Family Services - $500,000.00
National Latino Education Institute - $480,000.00
Project Hood Communities Development Corporation - $500,000.00
Rebuilding Exchange - $549,999.65
Revolution Workshop - $200,000.00
Richland Community College - $450,000.00
Rincon Family Services (Northside of Chicago & Cicero)- $500,000.00
Sista Girls and Friends - $550,000.00
Southwestern Illinois College - $295,071.82
Augustine College – Aurora - $500,000.00
Augustine College – Grayslake - $500,000.00
Teens Against Killing Everywhere - $400,000.00
Tools Up Foundation, INC - $264,000.00
YouthBuild Lake County - $300,000.00