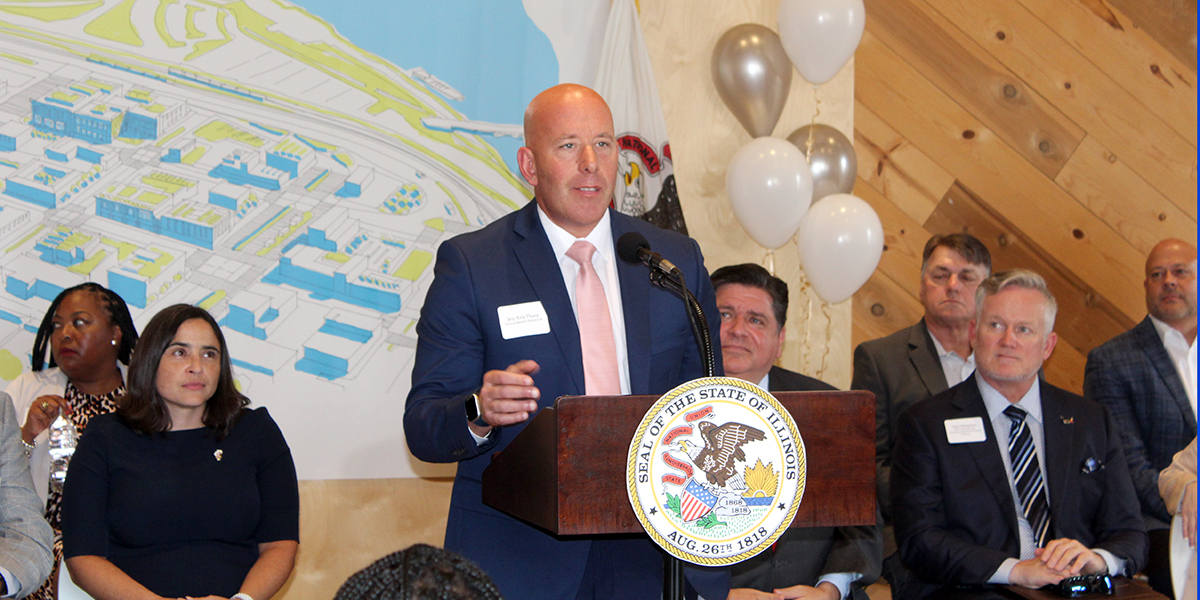 SPRINGFIELD – Thanks to the Illinois Senate Democratic Caucus' backing of the historical Rebuild Illinois Plan, over $100 million was granted Monday to revitalize downtowns and main streets across the state.
"Residents depend on reliable, safe transportation to prosper in their communities and spur economic development in the region," said State Senator Christopher Belt (D-Swansea). "The $1.2 million investment in the Village of Fairmont City will create jobs for residents to maintain roadways, design streetscape and improve drainage infrastructure."
The Illinois Department of Commerce and Economic Opportunity announced $106 million in capital grants that were awarded to revitalize 50 commercial corridors and main streets across Illinois. The historic Rebuild Illinois Downtowns and Main Streets Capital program represents the largest-ever Rebuild Illinois investment focused on community revitalization.
"When we think about our downtowns and main streets, we think about the local businesses and the families who own them who rely on community investments to thrive," said State Senator Kris Tharp (D-Bethalto). "This vital funding doesn't just ensure the success of current businesses and employees, it brings forth other good-paying jobs to impact even more families in the community."
The Rebuild Illinois State capital funds and further funds from the American Rescue Plan Act will support projects to revitalize commercial hubs, beautify and modernize downtowns, address critical infrastructure needs, boost jobs and improve the quality of life for residents.
"The Times Theater has a special place in Rockford's history, and thanks to a grant from Rebuild Illinois it will have a special place in our future as well," said State Senator Steve Stadelman (D-Rockford). "Revitalizing our downtown and its historic buildings is not just for entertainment: projects like this tell visitors and residents alike that Downtown Rockford will remain a catalyst for economic growth throughout the region."
Originally, the program allocated $50 million in funding for this project in 2021. As the number of projects eligible for federal COVID relief funds increased, funding for the program doubled in investments benefiting 50 total communities. The increase in funding allowed the state to support an additional 29 community revitalization projects.
"Fresh and affordable food is critical for every family, no matter where they call home," said State Senator Suzy Glowiak Hilton (D-Western Springs). "Funded in part by Rebuild Illinois, I'm thrilled to welcome the first community-owned grocery to DuPage County—Prairie Food Co-Op in downtown Lombard. This investment will help ensure families have access to healthy, sustainable food options."
The Rebuild Illinois Downtowns and Main Streets Capital Program will support local commercial corridors that experienced difficulties during the pandemic due to declining foot traffic, tourism, and business from downtown offices. The program drives investment in infrastructure and public amenities that continue to fuel economic activity as more Illinoisans patron their local town centers.
Grants awarded through the program include a variety of projects, such as the restoration of historic buildings, parking and street improvements, construction or improvement of outdoor venues or plazas for public use, sustainability upgrades, structural repairs and other projects benefitting the larger community. Grants range from $398,552 to $3 million in funding.
To find a full list of projects, visit DCEO's website.