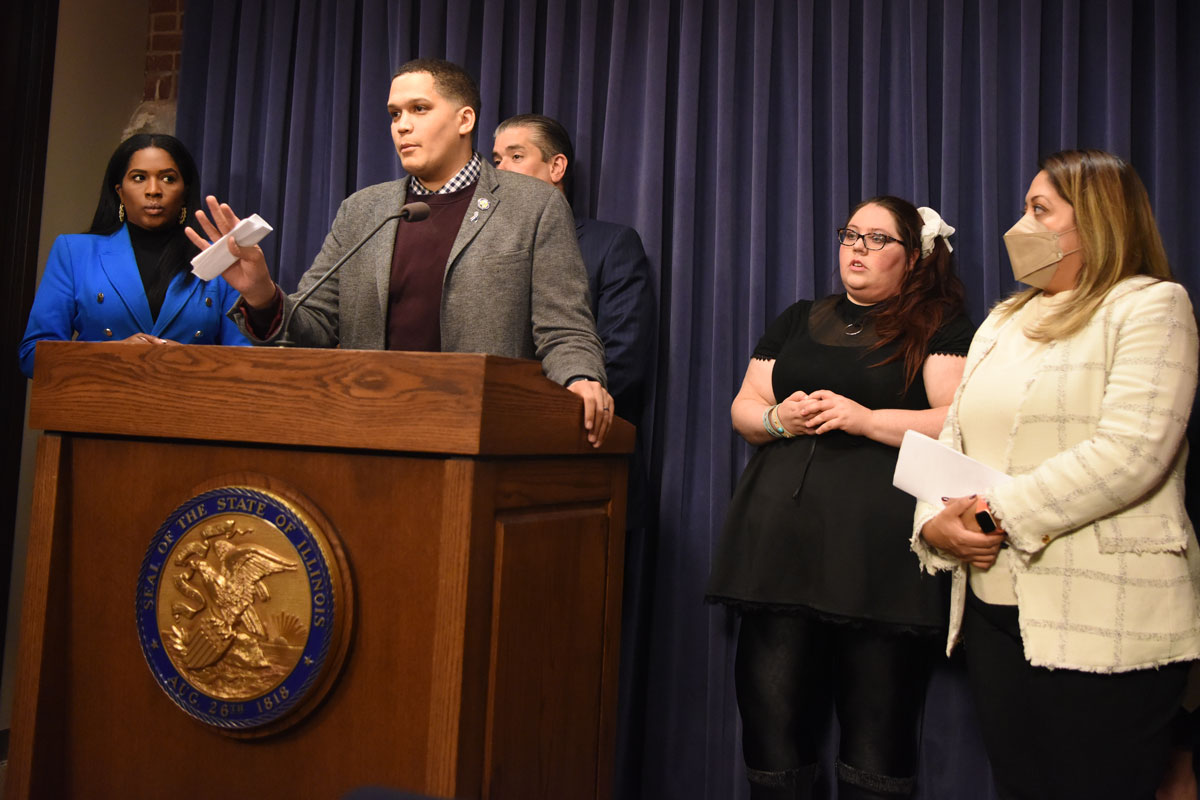 SPRINGFIELD – To work to reduce crime in neighborhoods and invest in education opportunities, Democratic legislators unveiled a package of legislation to help better address the equity needs of local communities at a press conference Friday.
"Public Safety is an issue that has touched me and my neighbors directly and that is why I am in favor of greater community involvement," said Senator Robert Peters (D-Chicago). "We can achieve real public safety for all by listening to communities and expert input, not by continuing the misguided policies of the past."
House Bill 4736, sponsored Peters, would create the Crime Reduction Task Force – made up of a bipartisan group including legislators, law enforcement and legal and criminal justice professionals, as well as crime victims and witnesses. The task force would develop a plan of action to reduce crime across the state and report its findings to the General Assembly and the governor.
Additionally, the measure would create a statewide anonymous tip hotline and a Violent Crime Witness Protection fund to encourage individuals who witness crimes to file reports without putting their safety in jeopardy. Peters' Senate Bill 4203 would provide $20 million for the Witness Protection fund and $1 million for the anonymous tip program.
Representative Jehan Gordon-Booth (D-Peoria) is filing an amendment to House Bill 1360 to create the Co-Responder Unit Pilot Program at police departments in East St. Louis, Peoria, Springfield and Waukegan. These co-responder units would employ social workers and focus on serving communities by focusing on mental and behavioral health, substance use disorder services and homelessness issues. In particular, the proposed units would work to connect violence survivors with needed services, including trauma-informed crisis intervention and counseling.
"We need a comprehensive, well-funded plan that targets the root causes of violence and gives communities the tools they require to reach out and assist those impacted by crime," Gordon-Booth said. "Communities should utilize trained behavioral health professionals in conjunction with law enforcement. While this is one part of a larger effort to combat violence, an increased focus on behavioral health can help reduce use of force, crime rates and recidivism. Combined with stronger anonymous reporting and witness protection programs, it will help to create trust in communities we need to help."
Senator Celina Villanueva (D-Chicago) introduced Senate Bill 4202, which would invest in funding for various programs supporting Illinois children and families.
"It's especially important to me that marginalized populations have the same rights and opportunities as everyone else," Villanueva said. "I take great care to make sure our underserved communities have equitable access to the resources they so critically need to target disparity at its source."
The pandemic has highlighted cracks in early childhood care systems across the country – making the nearly $600 million investment in early childhood education more critical than ever. Additionally, the package includes investments for the Parents Too Soon program, Healthy Families Illinois program, Teen REACH After-School Program and the Child Care Assistance Program.
Senate Bill 4202 also appropriates $529 million – an increase of $50 million – for need-based MAP grants to help students afford college.
"I've said it before, but our children and how they're taken care of says so much about our society. Investing in our children means building a solid future for them as individuals in our communities," said Cristina Pacione-Zayas (D-Chicago). "The saying goes, 'it takes a village,' and making sure community programs can support our state's youngest truly exemplifies that idea."
As budget discussion continue in the last week of the spring legislative session, Democratic legislators continue to work to empower Illinois families.