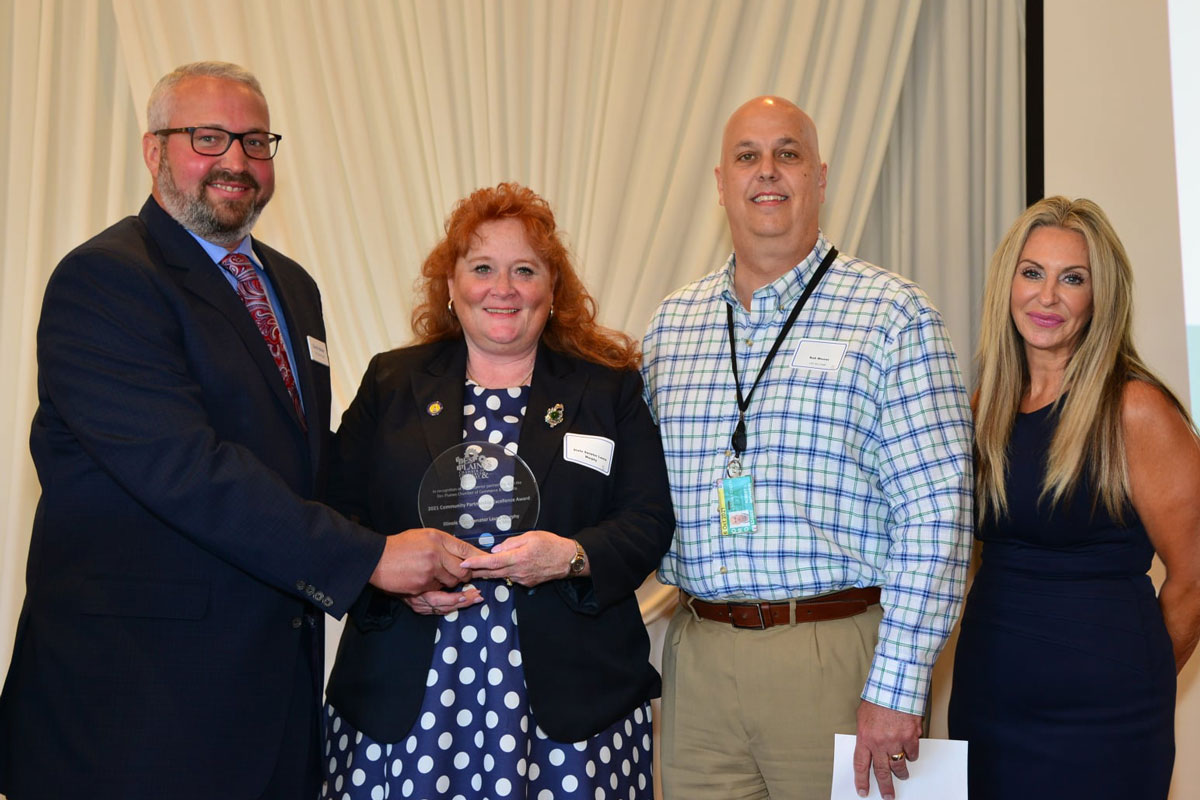 DES PLAINES – State Senator Laura Murphy (D-Des Plaines) was awarded the first-ever Des Plaines Chamber Community Partnership Excellence Award on Thursday in recognition of her service and dedication to the community and its businesses.
"It is the greatest pleasure and honor to continue to serve this community," Murphy said at the ceremony. "The people in Des Plaines make this community the fabulous place it is. None of us do this work alone—it's only because of the support of the residents that we're able to do it."
The Des Plaines Chamber of Commerce & Industry selected Murphy to receive the award because of her longtime efforts to improve pedestrian safety in the community, particularly along Touhy Avenue in Des Plaines.
Multiple pedestrians have been struck by oncoming vehicles along Touhy Avenue in recent years, resulting in two fatalities.
Both fatal accidents involved employees of the LSG SkyChefs facility located across Touhy Avenue from the Pace Suburban Bus stop. Formerly, LSG SkyChefs employees who took the bus were forced to cross seven lanes of heavy traffic to get to work.
Murphy acted swiftly in response to these accidents to prevent further tragedy, successfully securing $3 million for repairs and improvements to the road in 2019. She also worked with Pace and the Illinois Department of Transportation to make immediate changes to increase safety, including installing better lighting, lowering speed limits and moving the bus stop to a safer location to reduce Touhy Avenue crossings.
Murphy also sponsored Senate Bill 1791 this spring to require IDOT to conduct a traffic study following any fatal pedestrian accident on a state highway, which she hopes will help identify problem areas and find solutions. The legislation passed both houses of government and now awaits the governor's signature.
"Senator Murphy has spent the last 20 years as an active member of the Des Plaines community," said Andrea Biwer, the chamber's executive director. "The senator has supported the Des Plaines Chamber as our partner and our friend through the years, and whenever we needed anything, her help and support helped get us through."
Biwer spoke at the ceremony praising Murphy's work on behalf of the Des Plaines business community, and Rob Mower, general manager of LSG SkyChefs, thanked the senator for her quick work and collaboration to improve safety for the community.
"I am so blessed with the honor to continue to serve you in the General Assembly," Murphy said. "I look forward to continuing in that role."
###
PHOTO ATTACHED: State Senator Laura Murphy (D-Des Plaines) receives the 2021 Des Plaines Chamber Community Partnership Excellence Award from the Des Plaines Chamber of Commerce & Industry on Wednesday, June 16, 2021. From left to right: President of the Heiser Group and 2021 Chamber Board President David Heiser, Senator Laura Murphy, General Manager of LSG Sky Chefs Rob Mower, and Chamber Executive Director Andrea Biwer.