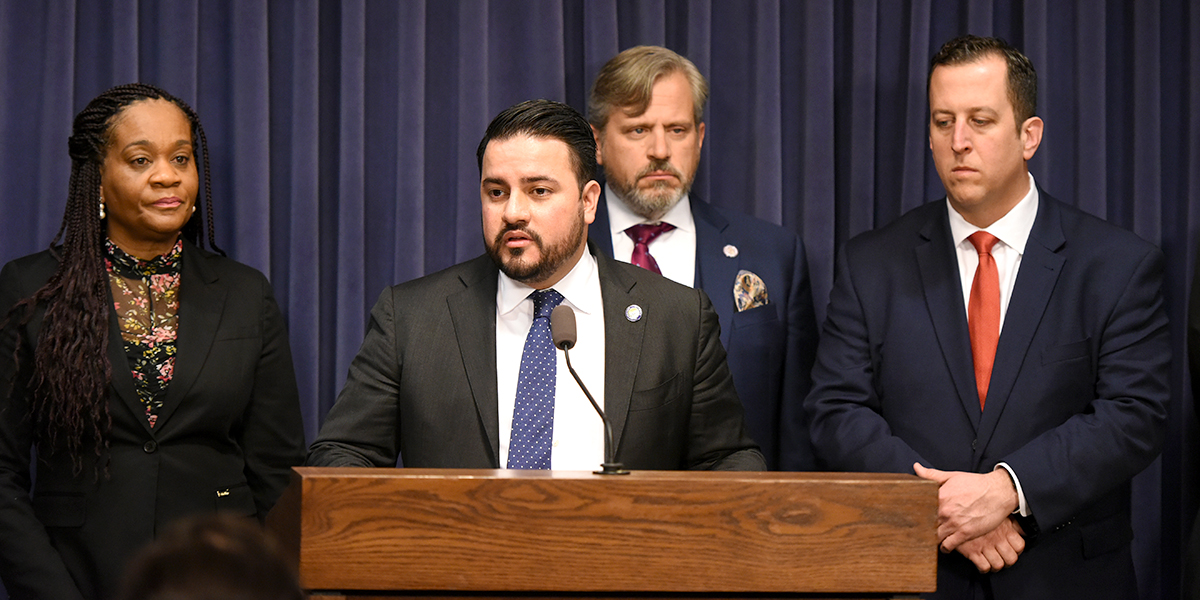 SPRINGFIELD – Last year alone, more carjackings were reported in Chicago than in any other city. To address the increase of the crime and provide relief to victims, Illinois Senate Democrats are spearheading legislation which they outlined at a press conference Tuesday.
"When someone is a victim of a carjacking, they are already dealing with a traumatic experience that could be worsened by burdensome fees and tickets they weren't even at fault for," said State Senator Omar Aquino (D-Chicago). "This measure is about ensuring economic security for folks who have already been victimized."
Aquino's House Bill 3772 would provide protections for victims of carjackings who receive red light or speed camera violations after their vehicle has been hijacked. Under the measure, if a person receives a citation due to one of these camera violations, the court or hearing officer would be able to consider whether the vehicle was hijacked before the violation occurred or the victim not under the control of or possession of the vehicle at the time of violation.
Additionally, if a person's car was towed following a carjacking, the associated fees would be waived if they submit their police report.
According to a January report from CNN, cities around the country have seen an increase in the rate of carjackings in the wake of the COVID-19 pandemic. More than 1,800 carjackings were reported in Chicago last year, according to data released by police departments to CNN.
Chicago's 2021 tally was the most on record over the last 20 years. Carjackings had been steadily declining in the city after 2001, hitting a low of 303 in 2014 but began to tick upward before skyrocketing to 1,400 in 2020 following the onset of the pandemic. Last year saw more than five times as many carjackings as in 2014.
State Senator Robert Martwick (D-Chicago) is sponsoring House Bill 3699, which would allow Metropolitan Enforcement Groups, or cooperatives of law enforcement, to work together to target carjacking. Further, it would allow the Metropolitan Enforcement Groups to receive state grants to assist in enforcement, and provide additional resources to law enforcement to target and capture these offenders.
"The uptick in carjackings is a disturbing trend," Martwick said. "But because of the nature of the crime, suspects aren't often caught. By allowing law enforcement officers to put their heads together to decipher ways to tackle the ongoing issue, we are a step closer to getting to the bottom of the issue."
Members of the Illinois Senate Democratic Caucus hope to hear the bills on the Senate floor before the planned April 8 adjournment date.