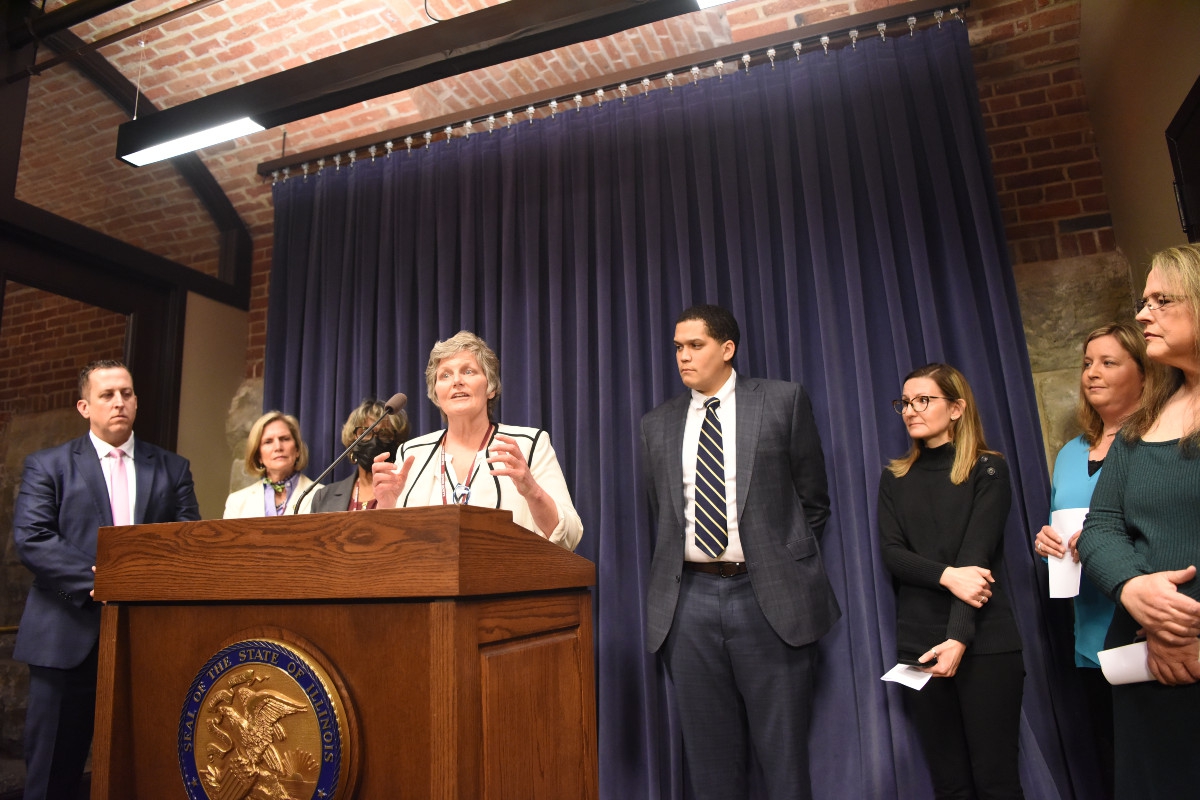 SPRINGFIELD – Fentanyl is a synthetic opioid that is up to 50 times stronger than heroin and 100 times stronger than morphine – and an increase of overdoses of the drug is plaguing every corner of our state. Members of the Illinois Senate Democratic Caucus outlined their plan to combat the overdose crisis during a press conference Thursday.
The increase in the number of fatalities is attributed to the rise of synthetic opioids, such as fentanyl.
Since 2013, synthetic opioid deaths in Illinois have increased 2,736% — and many of those who have overdosed did not know they were taking opioids or that their drugs were laced with fentanyl.
State Senator Laura Ellman (D-Naperville) is working to combat overdose deaths by ensuring people who fall victim to the drug are able to get the necessary medical help they need without facing grave legal consequences.
House Bill 17 would allow people seeking medical treatment for an overdose with immunity from prosecution for possession of small amounts of fentanyl. Should a person seek medical assistance for someone experiencing an overdose, they would not be arrested, charged or prosecuted.
"Fentanyl-based and fentanyl-laced drugs are proliferating across Illinois, killing more people every year," Ellman said. "If this legislation empowers even one person to reach out for help without fear, it will have done its job."
Organizations and volunteers place themselves in communities and events susceptible to drug use to help people who battle opioid addiction, and Senator Robert Peters (D-Chicago) believes they should not be penalized for trying to save lives. He is leading House Bill 4556, which would allow pharmacists and medical professionals to dispense drug adulterant testing supplies to any person without persecution for possessing drug testing supplies.
A drug adulterant test allows people who use drugs to help identify the substance they intend on taking and therefore prevent harms associated with consuming an unknown substance. Drug testing is a common harm reduction strategy utilized by the nightlife, dance and festival communities and ensures that people have an understanding of what they are consuming so they can better manage any potential negative consequences of consumption.
The Chicago Department of Public Health began to distribute such tests in October. Within two months, more than 7,000 tests were given out – mostly to groups who tackle substance abuse.
"This measure will help organizations get more tests into the hands of more patients and it will save lives," Peters said. "We still have a long way to go, but removing these penalties is a responsible way to address the opioid crisis and to create real public safety for all instead of continuing the misguided policies of the past."
In Illinois alone, opioid overdoses increased 33% from 2019 to 2020. In 2020, there were 2,944 opioid overdose fatalities.
The bills are expected to be heard in the weeks to come.