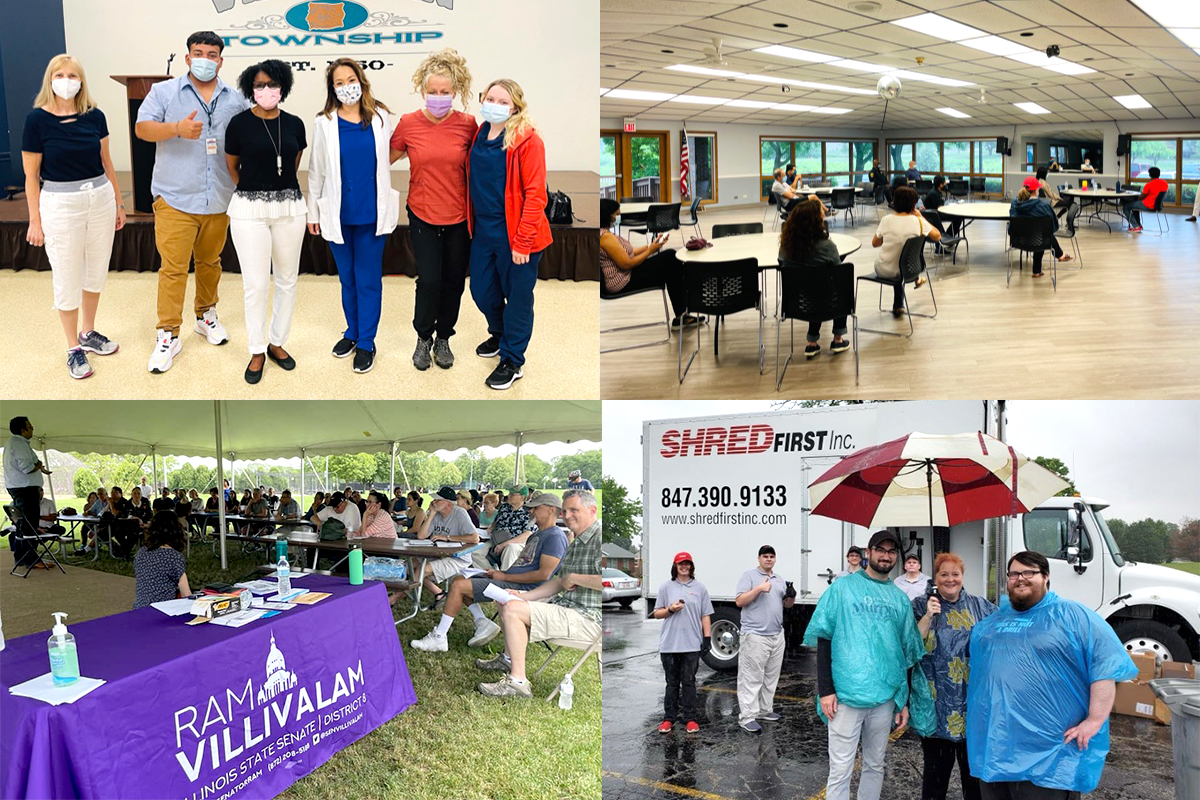 Over the weekend, five senators hosted events in their communities to engage with and provide services for their constituents.
On Friday, Senator Laura Ellman (D-Naperville) hosted an event with the Secretary of State's Mobile Driver Services Unit, which offered residents a convenient way to renew or correct driver's licenses, renew license plate stickers, and more. About 25 residents took the opportunity to access these services.
Also on Friday, Senator Scott Bennett (D-Champaign) attended an event designating the University of Illinois' Chez Veteran Center's as a Purple Heart University for its services to veterans.
"Partnerships like this allow us to bring essential services directly to our constituents," Ellman said. "Whenever I have the chance to bring services right to our residents, I'm going to jump on it."
"It was an honor to attend the U of I's Chez Veteran Center," Bennett said. "As the largest student veteran center in the country, it gives veteran students a community on campus, and this designation is a recognition of all its important work."
On Saturday, Senator Adriane Johnson (D-Buffalo Grove) hosted a Coffee and Connect event at the Mundelein Park District Regent Center. Thirteen residents of the 30th District to came to ask questions, raise concerns, and get the latest updates about this year's spring session. In the afternoon, she stopped by the 12th Annual Vernon Township Community Garage Sale, which partnered with the Lake County Health Department and local organizations to offer shoppers a chance to get the COVID-19 vaccination. Over 30 residents stopped by to get vaccinated.
"Saturday was busy in the 30th District. Coffee & Connect presented the long-awaited the opportunity to chat with residents in person about our community's future, and the vaccination clinic Saturday afternoon helped protect even more residents against the COVID-19 virus," said Johnson. "I'm always grateful for the chance to get out in the community and meet people—it's the best part of the job."
Also on Saturday, Senator Laura Murphy (D-Des Plaines) hosted a Shred Day that allowed residents of the 28th district to securely dispose of any sensitive or confidential documents, like bank statements, paid utility bills and receipts. Over 100 cars came through the event.
"Safe, secure document shredding is key to protecting personal information against theft and fraud," said Murphy. "It's a pleasure to be able to provide this service to the community every year, and I was thrilled to see so many people take advantage, despite the wet weather."
Senator Ram Villivalam (D-Chicago) hosted a Post-Spring Session Town Hall Sunday to inform the residents of the 8th district on this year's legislative successes in Springfield as well as constituent services, small business support, resources for immigrants and more. The event saw over three dozen participants.
"I am grateful to all our neighbors for joining us both in-person and online to learn about the latest legislation from Springfield, receive feedback from constituents, and answer questions. We engaged in a productive discussion on the state budget, small business support, and public safety."
As the state opens back up, it is important to the members of the Illinois Senate Democratic Caucus to engage with their communities to best serve their constituents.
Keep an eye out for additional events from our senators in the upcoming months. Stay up to date with what's happening on our Facebook, Twitter, and Instagram pages.