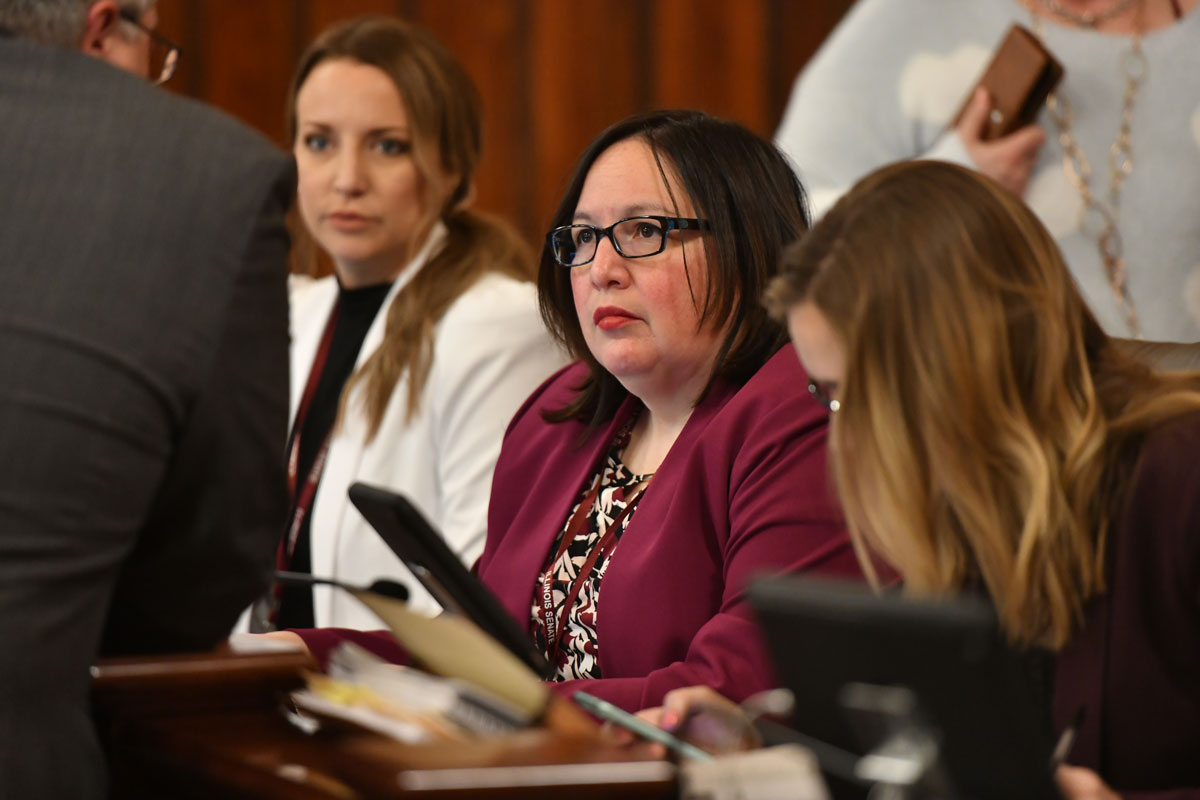 ELGIN – State Senator Cristina Castro is encouraging homeowners who had trouble making mortgage payments due to the COVID-19 pandemic to take advantage of an upcoming mortgage assistance program that will open for applications on Tuesday, Nov. 1.
"This program will provide crucial security to homeowners in Illinois who have struggled during the pandemic," said Castro (D-Elgin). "Families should not face foreclosure and homelessness due to their inability to make all mortgage payments in full while a global pandemic was devastating the economy and our communities."
The Illinois Homeowner Assistance Fund, administered by the Illinois Housing Development Authority, will provide up to $30,000 in mortgage assistance to eligible homeowners — paid directly to the servicer, taxing body or other approved entity — while homeowners work to regain their financial footing. Whether homeowners have a mortgage, a reverse mortgage, or are mortgage-free, the program can fund past due housing payments and up to three months of prospective mortgage payments.
To qualify for ILHAF assistance, Illinois homeowners must have experienced a financial hardship due to the COVID-19 pandemic after Jan. 21, 2020 (including a hardship that began before Jan. 21, 2020, but continued after that date). They also must currently own and occupy their home in Illinois as their primary residence, be at least 30 days late on their monthly housing payments and have a household income at or below 150% of the area median income.
"Illinoisans who have already struggled a great deal deserve stability and security," Castro said. "I encourage all eligible homeowners, whether they have a mortgage, reverse mortgage or are mortgage-free, to take advantage of this free program."
The program is free and funds do not need to be repaid. Application, program information and updates can be found at illinoishousinghelp.org. Applications will be accepted until 11:59 p.m. on Tuesday, Jan. 31, 2023. Interested homeowners are strongly encouraged to attend an information session hosted by IHDA or one of its housing partners. The session schedule is posted online at illinoishousinghelp.org. For those without access to a computer or the internet, please contact the ILHAF hotline at 1-866-IL-HELP (866-454-3571).
Castro invita a propietarios de vivienda a recibir asistencia para hipotecas
ELGIN – La Senadora Estatal Cristina Castro invita a los propietarios de vivienda que tengan problemas con sus pagos de hipoteca por la pandemia del COVID-19 a que aprovechen un programa de asistencia que ofrecerá solicitudes el 1 de noviembre.
"Este programa otorgará una seguridad crucial a los propietarios de vivienda en Illinois, quienes han batallado mucho durante la pandemia," dijo Castro (D-Elgin). "Las familias no deben enfrentar un desalojo y vivir en la indigencia por no hacer los pagos completos de su hipoteca, mientras la pandemia devastaba la economía y nuestras comunidades."
El Fondo de Asistencia a los Propietarios de Vivienda de Illinois, administrado por la Autoridad de Desarrollo a la Vivienda de Illinois, ofrecerá hasta $30,000 en asistencia a hipotecas de propietarios a vivienda elegibles —con pagos directos con quien se contrató la deuda, gobierno u otras entidades aprobadas— en tanto los propietarios de vivienda recuperan su estabilidad financiera. Si los propietarios de vivienda cuentan con una hipoteca, una hipoteca regresiva, u otras, el programa puede financiar pagos atrasados de vivienda hasta por tres meses de los pagos pendientes.
Para calificar a la asistencia ILHAF, los propietarios deben haber experimentado dificultades financieras debido a la pandemia de COVID-19 después del 21 de enero de 2020 (incluyendo dificultades que comenzaron antes del 21 de enero de 202, y que continúan hasta la fecha). También, deben ser los propietarios y ocupar la vivienda en Illinois como su residencia primaria, estar al menos 30 días retrasados con sus gastos de vivienda y tener un ingreso global en el hogar de 150% debajo del promedio del área donde viven.
"Los residentes de Illinois que ya han sufrido mucho merecen recuperar la estabilidad y la seguridad," dijo Castro. "Invito a todos los propietarios de vivienda elegibles que tengan diversos tipos de hipotecas a que aprovechen este programa gratuito."
El programa no tiene costo y los fondos no necesitan ser devueltos. Las solicitudes, información sobre el programa y actualizaciones pueden ser vistas en illinoishousinghelp.org. Las solicitudes serán aceptadas hasta las 11:59 p.m. del martes 31 de enero de 2023. Se invita a que los propietarios de vivienda interesados asistan a una sesión informativa ofrecida por IHDA, o por uno de sus asociados de vivienda. El calendario de sesiones se puede consultar en línea en illinoishousinghelp.org. Para quienes no tengan acceso a una computadora o internet, por favor contacten la línea de ayuda de ILHAF, marcando 1-866-IL-HELP (866-454-3571).